Starting with B_E_01397, there is possible to use two MECHAs connected one to other via wireless,
They don't need to be on the same gear, e.g. one can be on tripod, another under turntable,
nor in the same country as the connection can be via Internet.
When you need some guidance in how to use two MECHA connected, please ask here for both accessories needed for mounting on, say NN3 or NN6, so on.
The use will become much simpler in future FW updates (via presets and stuff),
Here is only an example how a multi-row panorama using Canon 350D + 18-55 lens @18 mm can be done with
two MECHAs mounted on NN3 MK 3 - FW used : B_E_01400 - the latest ATM
the shooting pattern used was 3 x 10 + N + Z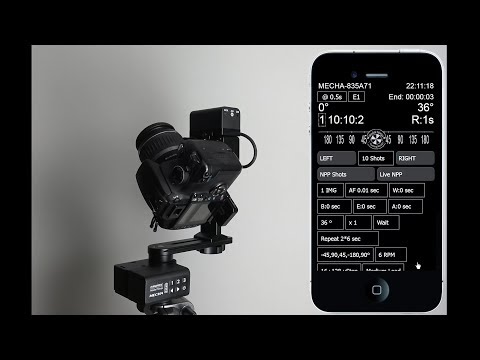 The shutter cable I have handy wasn't long enough to allow the nadir shoot, so I didn't use any cable at all.
L.E. Now it can be plugged in any MECHA.
Dorin